You are here
Back to top
Learn Adobe Illustrator CC for Graphic Design and Illustration: Adobe Certified Associate Exam Preparation (Adobe Certified Associate (ACA)) (Paperback)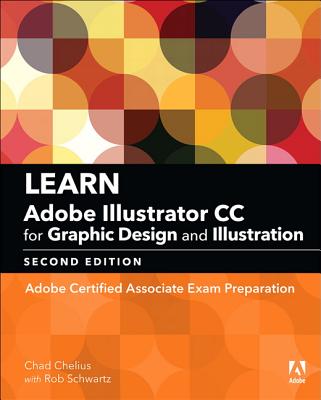 $57.49
Usually Ships in 1-5 Days
Description
---
Adobe Illustrator CC is the most popular vector illustration application available. Print and screen designers use it to create powerful artwork composed of shapes, color, and highly styled text. Illustrator is a necessary tool for anyone considering a career in the visual design or illustration field. Learn Adobe Illustrator CC by building cool creative projects that teach you how to:
Design and illustrate a promotional postcard
Style text to create a logotype for a business
Combine illustrations and text to create infographics
Trace a photograph to use in an eye-catching concert poster
Design icons and graphics for a mobile device interface
This study guide uses video integrated with text to help you gain real-world skills that will get you started in your career in graphic design using Adobe Illustrator CC 2018 and lays the foundation for taking the Adobe Certified Associate (ACA) certification exam in that field. A mix of 6 project-based lessons, 8 hours of practical videos, and interactive quizzes prepares you for an entry-level position in a competitive job market.
Purchasing this book gives you access to valuable online extras. Follow the instructions in the book's "Getting Started" section to unlock access to:
Web Edition containing instructional video embedded in the complete text of the book with interactive review questions along with product updates
Downloadable lesson files you need to work through the projects in the book
About the Author
---
Chad Chelius is a trainer, author, consultant, and speaker residing in the Philadelphia area. He's been using Adobe products for more than 25 years and began his career in the design and publishing industry. An Adobe Certified Instructor and a consultant, he teaches and advises on all Adobe print and web products, specializing in InDesign and InCopy workflows, Illustrator, and PDF accessibility using Adobe Acrobat. He works with clients both large and small within and outside the United States, helping them to solve problems, to work smarter, and to work more efficiently using Adobe products. Chad has been authoring content on Adobe products and related technologies for more than 15 years. He's worked with leading publishers such as Peachpit Press/Adobe Press, Pearson Education, lynda.com, and LinkedIn Learning. He also contributes to InDesign Magazine, InDesignSecrets.com, InCopySecrets.com, and CreativePro.com. As a speaker, Chad gives talks on Adobe applications at industry conferences of all sizes, including Adobe MAX, CreativePro Conference, The InDesign Conference, PepCon, and MakingDesign. When he's not consulting and traveling, you'll find Chad hanging out with his family or riding his road bike in the hills of beautiful Pennsylvania or backpacking with his son. You can follow him on Twitter @chadchelius. Rob Schwartz (author of Chapters 7 and 8) is an award-winning teacher with 20 years of experience in technical education. In addition to holding several Adobe Certified Associate certifications, Rob is an Adobe Certified Instructor. As an Adobe Education Leader, Rob won the prestigious Impact Award from Adobe, and in 2010 he ran the Top Certifying Academic Center for the Adobe certification exams and was named #1 Instructor Worldwide in the Adobe Certified Associate World Championship. Rob gives presentations worldwide about Adobe certifications. Find out more about Rob at his online curriculum website: brainbuffet.com.