You are here
Back to top
Android User Interface Design: Turning Ideas and Sketches Into Beautifully Designed Apps (Paperback)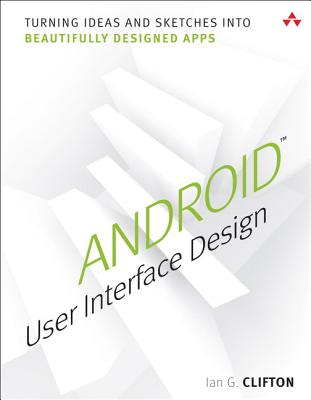 Description
---
Build Android Apps That Are Stunningly Attractive, Functional, and Intuitive
In today's crowded Android marketplace, it's more important than ever to differentiate your apps. Great design is the best way to do that. Now, leading Android app design expert Ian G. Clifton shows you how to make your apps come alive and how to deliver apps that users will want, love, and buy
Reflecting the Android 4.2 SDK, this book serves both as a tutorial for the entire design and implementation process and as a handy reference you ll rely on for every Android development project.
Clifton shows how to create effective designs, organize them into Android components, and move gracefully from idea, to wireframe, to comp, to finished app. You ll learn how to bring your own voice, personality, and style to your app designs; how to leverage advanced drawing techniques such as PorterDuff compositing; how to test designs on diverse Android devices; and much more.
Android User Interface Design
details each step of the design and development process and contains extensive downloadable sample code, including complete finished apps.
Learn how Android has evolved to support outstanding app design
Integrate app design with development, from idea through deployment
Understand views, the building blocks of Android user interfaces
Make the most of wireframes and prototypes
Build efficient layouts and integrate smooth animations
Make apps more useful by automatically updating ListViews
Combine views into custom components
Use image compositing and other advanced techniques
Work with the canvas and advanced drawing
Leverage Google Play and Amazon Appstore assets
One step at a time, this guide helps you bridge the gap between Android developers and designers so you can work with colleagues to create world-class app designs...or do it yourself
About the Author
---
Ian G. Clifton is the Director of User Experience and lead Android developer at A.R.O. in Seattle, where he develops Saga, an Android and iOS app that learns about you in order to let you live a better life with minimal interaction. He has worked with many designers in the course of his career and has developed several well-known Android apps, such as CNET News, CBS News, Survivor, Big Brother, and Rick Steves' Audio Europe. Ian's love of technology, art, and user experience has led him along a variety of paths. Besides Android development, he has done platform, web, and desktop development. He served in the United States Air Force as a Satellite, Wideband, and Telemetry Systems Journeyman and has also created quite a bit of art with pencil, brush, and camera. You can follow Ian G. Clifton on Twitter at http: //twitter.com/IanGClifton and see his thoughts about mobile development on his blog at http: //blog.iangclifton.com. He also published a video series called "The Essentials of Android Application Development," available at http: //my.safaribooksonline.com/video/programming/android/9780132996594.