You are here
Back to top
Recipe for Adventure 1-4 Box Set (Paperback)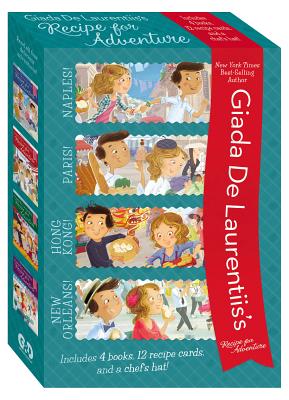 Description
---
Four times the deliciousness! Four times the adventure!
This fantastic box set includes the first four titles in Giada De Laurentiis's Recipe for Adventure series—Naples!, Paris!, Hong Kong!, and New Orleans!—accompanied by additional brand-new, extra-special recipe cards and a chef's hat. It's the perfect blend of adventure, humor, and food that kids know and love.
About the Author
---
Giada De Laurentiis was born in Rome and grew up in a big Italian family. They spent lots of time together in the kitchen, which is where Giada discovered her love of cooking! Later, she would hone her skills at Le Cordon Bleu, a very cool cooking school in Paris. Many puff pastries and a graduation later, Giada began working in a fab restaurant called Spago in Los Angeles. Shortly after, she founded her very own catering company. She is now the Emmy Award-winning star of Food Network's Everyday Italian, Giada's Weekend Getaways, Giada in Paradise, and Giada at Home, as well as the author of seven cookbooks. She lives with her husband, Todd, and daughter, Jade, in a cozy house by the beach in Los Angeles. Giada loves the colors "pesto-green" and "eggplant-purple," and Nutella pancakes are her favorite treat to share with Jade.