You are here
Back to top
Life on the Other Side: A Psychic's Tour of the Afterlife (Mass Market)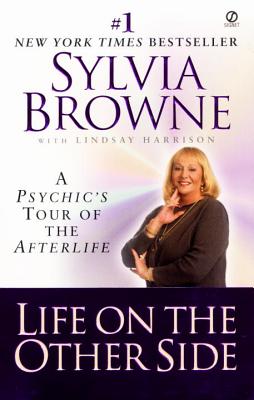 $7.99
Usually Ships in 1-5 Days
Description
---
Take a journey you will never forget
—
and discover the answer to life's greatest question:
"What's on The Other Side?"
Renowned psychic, spiritual teacher, and #1 New York Times bestselling author Sylvia Browne has changed millions of lives with her unique gifts. Now, she leads readers on an adventure of the spirit: a surprising glimpse into the next world, where their loved ones patiently await them.
In this extraordinary book, Sylvia reflects upon her past experiences, hypnosis sessions, and research to tell the truth about The Other Side. She explains the process of leaving this world for the next, and what circumstances foretell our next incarnation on Earth.
Filled with stunning revelations and stories of those who have visited The Other Side, this uplifting book is the ultimate guide to finding peace in the afterlife.
About the Author
---
Sylvia Browne was a psychic and the #1 New York Times bestselling author of End of Days, Blessings from the Other Side, Adventures of a Psychic, The Other Side and Back, and Life on the Other Side. 

Lindsay Harrison is a writer and teacher living in New York City.
Praise For…
---
"I've personally witnessed her bring closure to distraught families, help the police close cases, and open people's hearts to help them see the good within themselves." —Montel Williams