You are here
Back to top
Cuisine and Empire: Cooking in World History (California Studies in Food and Culture #43) (Paperback)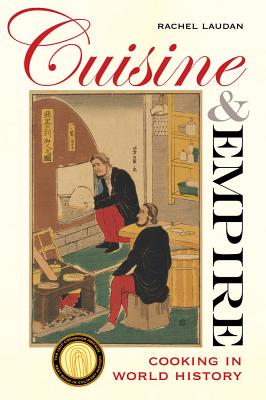 $29.95
Usually Ships in 1-5 Days
Description
---

Rachel Laudan tells the remarkable story of the rise and fall of the world's great cuisines—from the mastery of grain cooking some twenty thousand years ago, to the present—in this superbly researched book. Probing beneath the apparent confusion of dozens of cuisines to reveal the underlying simplicity of the culinary family tree, she shows how periodic seismic shifts in "culinary philosophy"—beliefs about health, the economy, politics, society and the gods—prompted the construction of new cuisines, a handful of which, chosen as the cuisines of empires, came to dominate the globe.



Cuisine and Empire shows how merchants, missionaries, and the military took cuisines over mountains, oceans, deserts, and across political frontiers. Laudan's innovative narrative treats cuisine, like language, clothing, or architecture, as something constructed by humans. By emphasizing how cooking turns farm products into food and by taking the globe rather than the nation as the stage, she challenges the agrarian, romantic, and nationalistic myths that underlie the contemporary food movement.

 
About the Author
---
Rachel Laudan is the prize-winning author of The Food of Paradise: Exploring Hawaii's Culinary Heritage and a coeditor of the Oxford Companion to the History of Modern Science.
Praise For…
---
"During my forty year culinary career, there have been a select number of books that became touchstones, volumes that seemed to arrive just when inspiration was needed or direction was appropriate, books that somehow enhanced my sense of having found my calling. The newest addition to the list is a work of culinary history by Rachel Laudan."
— Virginia B. Wood
"It seems like every time you hear someone mention processed food, it's accompanied with the words 'bad' or 'unhealthy,' plus a shaking finger. Unless you're author Rachel Laudan."
"Magnificent . . . Some of Laudan's 'diffusion maps' of particular styles of cuisine are miniature masterpieces of cultural history."
"Epic in range. . . . Its solidity and substance make a change from the day-to-day scatter of information delivered and consumed in tweets and sound bites."
"A fascinating account of the rise and fall of cuisines. . . . Touching on all parts of the globe, Rachel explores human development through the vastly understated tool of food."
"A new standard for global culinary history."