Temporary Store Closure, Keep Supporting Online!
We are currently closed until further notice due to COVID-19.
PLEASE keep supporting us so we can be here for you for years to come. Here is an easy way:
https://bookshop.org/shop/page2books
Order through this link, support Page 2 Books, and have your books shipped directly to your front door.
Note: Make sure you type the ENTIRE address in, or we will not receive credit for your purchase!
You can also support us through purchasing audiobooks at Libro.fm
You are here
Back to top
Recommender Systems: An Introduction (Hardcover)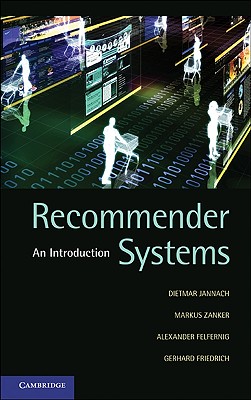 $99.99
Usually Ships in 1-5 Days
Description
---
In this age of information overload, people use a variety of strategies to make choices about what to buy, how to spend their leisure time, and even whom to date. Recommender systems automate some of these strategies with the goal of providing affordable, personal, and high-quality recommendations. This book offers an overview of approaches to developing state-of-the-art recommender systems. The authors present current algorithmic approaches for generating personalized buying proposals, such as collaborative and content-based filtering, as well as more interactive and knowledge-based approaches. They also discuss how to measure the effectiveness of recommender systems and illustrate the methods with practical case studies. The final chapters cover emerging topics such as recommender systems in the social web and consumer buying behavior theory. Suitable for computer science researchers and students interested in getting an overview of the field, this book will also be useful for professionals looking for the right technology to build real-world recommender systems.