You are here
Back to top
The Day After Roswell (Mass Market)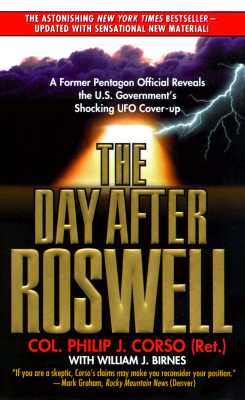 Description
---
Don't miss the bestselling exposé that finally ends the decades-old controversy surrounding the infamous and mysterious crash of an unidentified aircraft at Roswell, New Mexico, in 1947.

Backed by documents newly declassified through the Freedom of Information Act, Colonel Philip J. Corso (Ret.), a member of President Eisenhower's National Security Council and former head of the Foreign Technology Desk in the US Army, has come forward to reveal his personal stewardship of alien artifacts from the Roswell crash. He tells us how he spearheaded the Army's reverse-engineering project that led to today's integrated circuit chips, fiber optics, lasers, and super-tenacity fibers, and "seeded" the Roswell alien technology to giants of American industry. Laying bare the US government's shocking role in the Roswell incident—what was found, the cover-up, and how they used alien artifacts to change the course of twentieth-century history—The Day After Roswell is an extraordinary memoir that not only forces us to reconsider the past, but also our role in the universe.
About the Author
---
Philip Corso served in the United States Army from 1942 to 1963 and earned the rank of Lieutenant Colonel. Corso was on the staff of President Eisenhower's National Security Council for four years (1953–1957). In 1961, he became Chief of the Pentagon's Foreign Technology desk in Army Research and Development.
Praise For…
---
Bob Raimonto Staten Island Advance (NY) Stunning...A riveting account of Roswell and its aftermath.

Sharon Chance Times Record News (Wichita Falls, TX) The Day After Roswell could be the most significant and important book since the Bible.

Tim Clodfelter Winston-Salem Journal (NC) This book [is] a godsend, one that finally gives the details and names the names.