You are here
Back to top
The Curse of Cash: How Large-Denomination Bills Aid Crime and Tax Evasion and Constrain Monetary Policy (Paperback)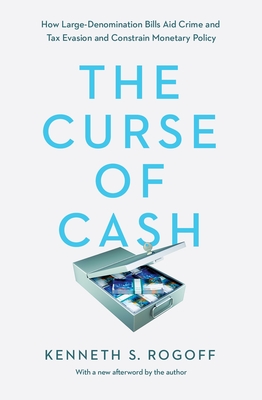 $17.95
Usually Ships in 1-5 Days
Description
---
From the New York Times bestselling author of This Time Is Different, "a fascinating and important book" (Ben Bernanke) about the surprising reasons why paper money lies at the heart of many of the world's most difficult problems
The world is drowning in cash--and it's making us poorer and less safe. In The Curse of Cash, acclaimed economist Kenneth Rogoff explores the past, present, and future of currency, from ancient China to today's cryptocurrencies, showing why, contrary to conventional economic wisdom, paper money surprisingly lies at the heart of some of the world's most difficult problems.
Cash is becoming increasingly marginalized in the legal economy, but there is a record amount of it in circulation--$1.4 trillion in U.S. dollars alone, or $4,200 for every American, mostly in $100 bills--and most of it is used to finance tax evasion, corruption, terrorism, the drug trade, human trafficking, and the rest of a massive global underground economy. Paper money also cripples monetary policy by making it impossible for central banks to lower interest rates significantly below zero, and The Curse of Cash explains why countries must establish effective negative interest rate policies to manage the next financial crisis.
Even if governments take better control of paper currency, perhaps by phasing out large-denomination notes, cryptocurrencies raise old and new issues. Looking to the future of public and private digital currency, The Curse of Cash cites the lesson of history: when it comes to currency, the private sector may innovate but eventually the government regulates and appropriates.
Provocative, engaging, and backed by compelling original arguments and evidence, The Curse of Cash is certain to spark widespread debate.
About the Author
---
Kenneth S. Rogoff, the Thomas D. Cabot Professor of Public Policy at Harvard University and former chief economist of the International Monetary Fund, is the coauthor of the New York Times bestseller This Time Is Different: Eight Centuries of Financial Folly (Princeton). He appears frequently in the national media and writes a monthly newspaper column that is syndicated in more than fifty countries. He lives in Cambridge, Massachusetts.