You are here
Back to top
My Google Apps (My...) (Paperback)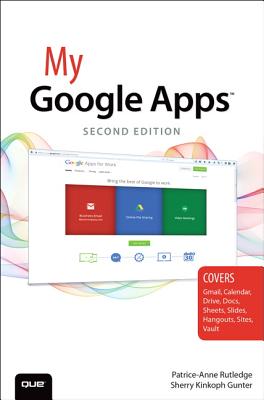 Description
---
My Google Apps
Full-color, step-by-step tasks walk you through doing exactly what you want with Google Apps. Learn how to:
Use Google Apps to reduce technology expenses and grow your business
Choose the best Google Apps version for your needs
Quickly activate and customize your account
Give your users customized email that uses your domain, not gmail.com
Connect Gmail to your smartphone so your email and schedule always go with you
Create, format, edit, print, and collaborate on documents with Docs
Track and analyze your data with Sheets
Create presentations with Slides and present anywhere via the Internet
Cut travel costs: run video meetings online with Google Hangouts
Improve project collaboration with a shared Sites workspace
Efficiently manage and share your schedule with Calendar
Store and share your files for secure anytime/anywhere access
Sync your files between your PC or Mac and Google Drive in the cloud
Use Vault to archive content and activity for compliance or other legal reasons
COVERS: Gmail, Calendar, Drive, Docs, Sheets, Slides, Hangouts, Sites, Vault
Step-by-step
instructions with callouts to new Google Apps screenshots that show you exactly what to do.
Help
when you run into Google Apps problems or limitations.
Tips and Notes
to help you get the most from Google Apps.
About the Author
---
Patrice-Anne Rutledge is a business technology author whose books include the first edition of My Google Apps; Gmail Tips, Tricks, and Tools; My LinkedIn; WordPress on Demand; and Sams Teach Yourself Google in 10 Minutes, all from Pearson Education. She is a long-time user of many Google tools and technologies, including Google Apps, Gmail, and Google+. Patrice is also the founder and principal of Pacific Ridge Media, a boutique content marketing and social media agency that offers consulting and training for clients worldwide. She is frequently quoted in major media outlets around the world, including CNN Inc., Fox News, ABC News, MSN, AOL, Orange County Register, ZDNet, USAA, CareerBuilder, and more. You can reach Patrice through her website at www.patricerutledge.com. Sherry Kinkoph Gunter has written and edited dozens of books over the past 20 years covering a wide variety of computer topics, including Microsoft Office programs, digital photography, and web applications. Her recent titles include Sams Teach Yourself Facebook, Third Edition, Word 2013 Absolute Beginner's Guide, and Microsoft Office for Mac Bible. Sherry began writing computer books in 1992, and her flexible writing style has enabled her to author for an assortment of imprints and formats. Sherry's ongoing quest is to help users of all levels to master ever-changing computer technologies and to help users make sense of it all so they can get the most out of their machines and online experiences. Sherry currently resides in a swamp in the wilds of east-central Indiana with a lovable ogre, a menagerie of interesting creatures, and a somewhat tolerable Internet connection.