You are here
Back to top
Tuttle Mini Vietnamese Dictionary: Vietnamese-English/English-Vietnamese Dictionary (Tuttle Mini Dictionary) (Paperback)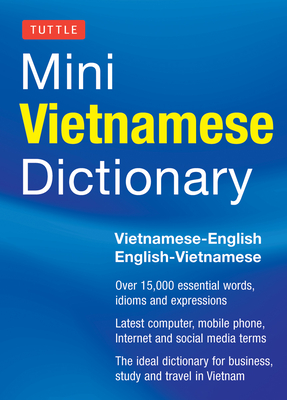 Description
---
It's never a good idea to be overly-relient on technology while traveling Look up words quickly and easily with this great little Vietnamese dictionary.
Tuttle Mini Vietnamese Dictionary
is ideal for any application where a handy and portable dictionary is required. Intended for use by tourists, students, and business people traveling to Vietnam or as a Vietnamese language study reference
Mini Vietnamese Dictionary
is an essential tool for communicating in Vietnamese and a great way to learn Vietnamese. It's useful pocket-sized format, and easy-to-read type will make translating Vietnamese much easier. In addition to being an excellent English to Vietnamese dictionary and Vietnamese to English dictionary,
Mini Vietnamese Dictionary
contains important notes on the Vietnamese language, Vietnamese grammar and Vietnamese pronunciation. All Vietnamese words are written in English as well as Vietnamese script so that in the case of difficulties the book can simply be shown to the person the user is trying to communicate with. This mini dictionary contains the following essential features:
Bidirectional Vietnamese--English and English--Vietnamese.
Over 15,000 essential Vietnamese words, as well as useful Vietnamese expressions and idioms.
Headwords printed in blue for quick and easy reference.
A basic overview of Vietnamese grammar and pronunciation.
All the latest Vietnamese social media and computer terms.
May be used for all U.S. ESL standardized testing.
About the Author
---
Phan Van Giuong is a professor in Vietnamese studies and served as the Convenor of the Vietnamese Language and Culture program at Victoria University in Melbourne, Australia for over 18 years. He has taught Vietnamese and English since 1965. He was the founding Dean of the Faculty of Languages and Culture Studies at Hoa Sen University. Professor Phan is the author of many textbooks: Vietnamese for Beginners (1-4), Functional Vietnamese, Modern Vietnamese (1 - 4), Vietnamese for Foreign Travellers, Vietnamese Interactive Books and a series of Pocket, Concise and Compact Vietnamese-English dictionaries. He was the editor of several Vietnamese literature magazines and newspapers and awarded the Order of Australia Medal and the International Educator of the Year award for his outstanding contributions to the teaching of Vietnamese language and culture. Professor Phan is now working for the International Baccalaureate, United Kingdom.