You are here
Back to top
The American Title Insurance Industry: How a Cartel Fleeces the American Consumer (Hardcover)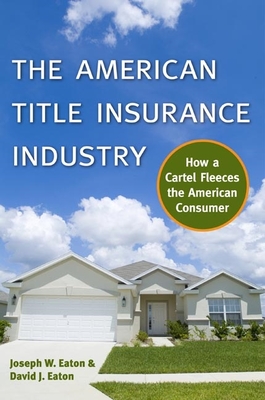 Email or call for price.
Usually Ships in 1-5 Days
Description
---
After World War II, banks and other mortgage lenders began requiring insurance to protect them against flawed or defective real estate titles. Over the past sixty years, the title insurance industry has grown steadily in size, power, and secrecy: policies are available for both lenders and property owners and many title insurers offer an array of other real estate services, such as escrow and appraisal. Yet details about the industry's operational procedures remain closely guarded from public exposure.
In The American Title Insurance Industry, Joseph and David Eaton present evidence that improvements in recordkeeping over the last sixty years--particularly the advent of computers--have reduced the likelihood of a defective title going unnoticed in a property transaction. But the industry's flaws run deeper than mere obsolescence: in most states, title insurers are allowed to engage in anticompetitive business practices, including price-fixing. Among the findings in this meticulously researched study are instances of insurers charging premiums well above the amount necessary to compensate them for assuming the risk of defect and identical policies with identical risk that vary in price by hundreds of percentage points for different geographic locations.
The authors also examine the widely ignored role that the federal and most state governments play in perpetuating the title insurance industry's unfair practices. Whereas most private industries prefer as little government intervention as possible, title insurers welcome it. Federal statue exempts title insurers from anti-trust liability, opening the door for price-fixing and destroying any semblance of free-market competition or market power for consumers. A landmark study for elected officials, and all those involved in the insurance, real estate, and brokerage industries,
The American Title Insurance Industry
brings to light a long-neglected problem--and offers suggestions for how it might be remedied.