You are here
Back to top
Simply in Season: Recipes and Inspiration That Celebrate Fresh, Local Foods (Paperback)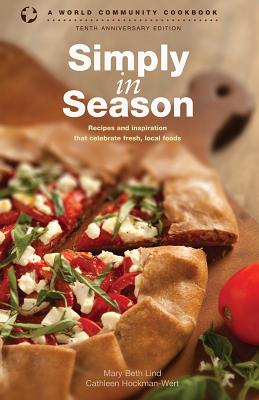 Description
---
Simply in Season serves up more than three hundred recipes organized by season, along with a popular and expanded fruit and vegetable guide. This 10th anniversary edition transforms a beloved cookbook with recipes and stories linking food and faith into a visual masterpiece with colorful photographs to help cooks--novice to seasoned--learn how to prepare local and seasonal produce.
Part of the World Community Cookbook series published in cooperation with Mennonite Central Committee. Proceeds help support this worldwide ministry of relief, development, and peace. Royalties from the sale of these books go to nourish people around the world.
What's new in the 10th anniversary edition:
Colorful photographs of seasonal dishes
Expanded fruit and vegetable guide with storage, preparation, and serving suggestions
Labels on gluten-free and vegetarian recipes
Seasonal menus to guide meal planning
Free downloadable study guide available here.
Available in:
Hardcover: Cooks' favorite for frequent use.
Softcover: Lightweight and economical.