You are here
Back to top
Talking about Single Payer: Health Care Equality for America (Paperback)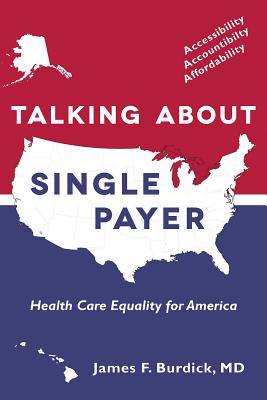 Description
---
By controlling expenses that do not help patients, a single payer system will simplify our health care system, improve the quality of care, and provide savings that far exceed the cost of extending coverage to every American.
Johns Hopkins transplant surgeon Dr. James Burdick outlines a viable approach to improving health care delivery to cover every American. Quality will be improved while costs will be lowered, ending the misery and grievances plaguing U.S. health care today.
The essence of the plan is to empower a transparent, apolitical national public-private Doctors Board to independently oversee care using a new approach to monitor quality. Joined with a convenient national electronic medical record system, this unique single payer system will free doctors to deal with each patient individually. With these innovations, Dr. Burdick's plan also limits market influences and politics in medical decisions so that each patient can receive care appropriate to their personal medical needs.
Thirty interviews with a broad range of authorities provide startling new insights about the adoption of a single payer structure for American health care. These expert opinions complement Dr. Burdick's own clinical and Federal experience as a leader in overseeing the country's organ transplantation program.
Through these unique initiatives, Dr. Burdick provides commonsense solutions to the political and social challenges currently anchoring American health care to costly and medically inferior practices. Such progress, Dr. Burdick predicts, is more possible now than ever before. The time is right for single payer