You are here
Back to top
Teach Yourself Visually Word 2016 (Paperback)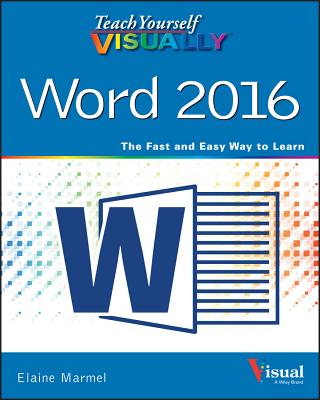 $29.99
Usually Ships in 1-5 Days
Description
---
Visually learn the latest version of Word
Are you a visual learner who prefers to see how Word works instead of hear a long-winded explanation?Teach Yourself Visually Word offers you a straightforward 'show me, don't tell me' approach to working with the newest version of the top-selling application in the Microsoft Office suite. Packed with visually rich tutorials and step-by-step instructions that will help you come to grips with all of Word's capabilities, this accessible resource will quickly and easily get you up and running on using the world's most widely used word processing program.
With Teach Yourself Visually Word, you'll learn how to perform dozens of tasks, including how to set up and format documents and text in Word; work with diagrams, charts, and pictures; use Mail Merge; post documents online; and much more. Covering the newest additions and changes to the latest version of Word, a series of easy-to-follow, full-color tutorials helps you to quickly get up and running with Word like a warrior
Tutorials and step-by-step screenshots make lessons easy to follow and understand
Helps you grasp the basic functions of Word--and beyond
Walks you through Word's new features
Demonstrates how to set up, format, and edit Word documents
If you're new to the world of Word and want a highly visual roadmap to help you put it to use for you, Teach Yourself Visually Word has you covered.
About the Author
---
Elaine Marmel (Phoenix, AZ) is President of Marmel Enterprises, LLC, an organization that specializes in technical writing and software training. Elaine has an MBA from Cornell University and worked on projects to build financial management systems for New York City and Washington, D.C. and trained more than 600 employees to use these systems. This prior experience provided the foundation for Marmel Enterprises, LLC to help small businesses manage the project of implementing a computerized accounting system. Elaine spends most of her time writing; she has authored and co-authored over seventy books. She left her native Chicago for the warmer climes of Arizona (by way of Cincinnati, OH; Jerusalem, Israel; Ithaca, NY; Washington, D.C. and Tampa, FL) where she basks in the sun with her PC, her cross stitch projects, and her dog Jack.