You are here
Back to top
Small Teaching Online: Applying Learning Science in Online Classes (Paperback)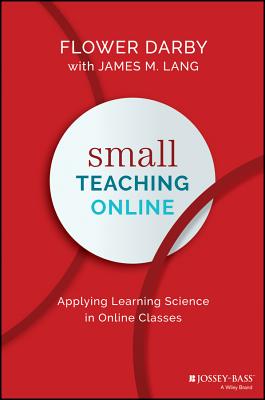 Description
---
Find out how to apply learning science in online classes
The concept of small teaching is simple: small and strategic changes have enormous power to improve student learning. Instructors face unique and specific challenges when teaching an online course. This book offers small teaching strategies that will positively impact the online classroom.
This book outlines practical and feasible applications of theoretical principles to help your online students learn. It includes current best practices around educational technologies, strategies to build community and collaboration, and minor changes you can make in your online teaching practice, small but impactful adjustments that result in significant learning gains.
- Explains how you can support your online students
- Helps your students find success in this non-traditional learning environment
- Covers online and blended learning
- Addresses specific challenges that online instructors face in higher education
Small Teaching Online presents research-based teaching techniques from an online instructional design expert and the bestselling author of Small Teaching.
About the Author
---
Flower Darby (Flagstaff, AZ) is a Senior Instructional Designer and adjunct faculty member at Northern Arizona University, where she has taught for over 22 years, delivering over 50 online classes to over 1,500 students. She teaches a range of subjects in several modalities: online, blended and face-to-face. She regularly writes and presents nationally and internationally on excellence in teaching and learning design. She maintains a website on teaching and learning in online contexts at http: //flowerdarby.com. James M. Lang (Worcester, MA) is a Professor of English and the Director of the D'Amour Center for Teaching Excellence at Assumption College. He writes a monthly column on teaching and learning for The Chronicle of Higher Education. He conducts workshops on teaching for faculty at more than a hundred colleges or universities in the US and abroad, and has consulted for the United Nations on the development of teaching materials in ethics and integrity for college faculty. He is the author of Small Teaching.