Temporary Store Closure, Keep Supporting Online!
We are currently closed until further notice due to COVID-19.
PLEASE keep supporting us so we can be here for you for years to come. Here is an easy way:
https://bookshop.org/shop/page2books
Order through this link, support Page 2 Books, and have your books shipped directly to your front door.
Note: Make sure you type the ENTIRE address in, or we will not receive credit for your purchase!
You can also support us through purchasing audiobooks at Libro.fm
You are here
Back to top
Gray Hat Hacking: The Ethical Hacker's Handbook, Fifth Edition (Paperback)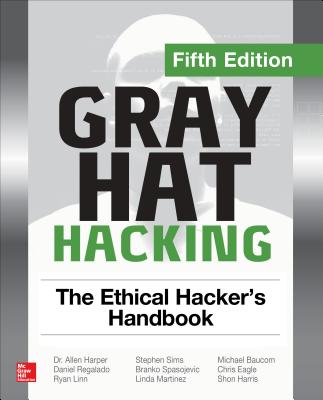 $60.00
Usually Ships in 1-5 Days
Description
---
Publisher's Note: Products purchased from Third Party sellers are not guaranteed by the publisher for quality, authenticity, or access to any online entitlements included with the product.
Cutting-edge techniques for finding and fixing critical security flaws
Fortify your network and avert digital catastrophe with proven strategies from a team of security experts. Completely updated and featuring 13 new chapters, Gray Hat Hacking, The Ethical Hacker's Handbook, Fifth Edition explains the enemy's current weapons, skills, and tactics and offers field-tested remedies, case studies, and ready-to-try testing labs. Find out how hackers gain access, overtake network devices, script and inject malicious code, and plunder Web applications and browsers. Android-based exploits, reverse engineering techniques, and cyber law are thoroughly covered in this state-of-the-art resource. And the new topic of exploiting the Internet of things is introduced in this edition.
-Build and launch spoofing exploits with Ettercap
-Induce error conditions and crash software using fuzzers
-Use advanced reverse engineering to exploit Windows and Linux software
-Bypass Windows Access Control and memory protection schemes
-Exploit web applications with Padding Oracle Attacks
-Learn the use-after-free technique used in recent zero days
-Hijack web browsers with advanced XSS attacks
-Understand ransomware and how it takes control of your desktop
-Dissect Android malware with JEB and DAD decompilers
-Find one-day vulnerabilities with binary diffing
-Exploit wireless systems with Software Defined Radios (SDR)
-Exploit Internet of things devices
-Dissect and exploit embedded devices
-Understand bug bounty programs
-Deploy next-generation honeypots
-Dissect ATM malware and analyze common ATM attacks
-Learn the business side of ethical hacking
About the Author
---
Dr. Allen Harper, CISSP, PCI QSA, is the Executive Director of the Center for Cyber Excellence at Liberty University.Daniel Regalado, aka Danux, CISSP, OSCP, OSCE, CREA, is a Principal Security Researcher at Zingbox.Ryan Linn, CISSP, CSSLP, OSCE, is the Director of Advanced Threats and Countermeasures at a major consulting firm.Stephen Sims is an independent consultant and is a course author, fellow, and curriculum lead for the SANS Institute.Branko Spasojevic is a security engineer at Google.Linda Martinez is the VP of Commercial Service Delivery at Tangible Security, Inc.Michael Baucom is the VP of Tangible Labs for Tangible Security, Inc.Chris Eagle is a senior lecturer in the Computer Science Department at the Naval Postgraduate School in Monterey, California.The late Shon Harris, CISSP, was the CEO and founder of Logical Security.