You are here
Back to top
Exporting: The Definitive Guide to Selling Abroad Profitably (Paperback)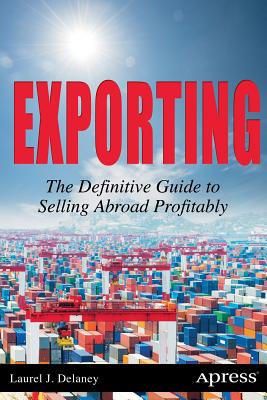 Description
---
"Delaney's excellent book truly is the definitive guide. It easily and thoroughly explains everything you need to know." Steve Strauss, USA Today
"Exporting: The Definitive Guide to Selling Abroad Profitably is generously sprinkled with Notes and Tips that deliver concise, insightful bursts of advice and counsel. These suggestions alone are worth the price of the book. From planning to execution, Laurel Delaney is like a trusted guide--encouraging one forward, pointing out potential pitfalls, and helping navigate the way through the exciting and challenging world of exporting." John N. Popoli, President and CEO, Lake Forest Graduate School of Management
"I highly recommend this book to anyone looking to export. The real world, nuts and bolts kind of advice and information it contains will save you money and time-- and make you a more effective exporter." Steve King and Carolyn Ockels, Small Business Labs
"Exporting: The Definitive Guide to Selling Abroad Profitably is an invaluable guide to navigating the often-challenging waters of exporting." Rieva Lesonsky, SmallBizDaily
"Exporting: The Definitive Guide to Selling Abroad Profitably is the 'how to' manual on how to grow USA factories jobs. Step by step and easy to read." Drew Greenblatt, CEO, Marlin Steel
"If you intend to grow your business beyond the U.S. border, Exporting: The Definitive Guide to Selling Abroad Profitably is a great place to start." Anita Campbell, founder of Small Business Trends
"As a valued Chapter Chair of the Women Presidents' Organization, Laurel Delaney has addressed a key issue our members face. While 25% of our members are international, another 25% would like to do business internationally. This book is a powerful guide that will help empower business owners and entrepreneurs by giving them everything they need to know about exporting." Dr. Marsha Firestone, President and Founder of the Women Presidents' Organization
"Exporting: The Definitive Guide to Selling Abroad Profitably takes the fear out of going global. It provides a step-by-step roadmap with very detailed and practical advice. From helping to identify markets to developing the relationships necessary for sales and distribution--this book is a must-have for any business trying to expand globally and profitably." Ellen A. Rudnick, Executive Director and Clinical Professor, Polsky Center for Entrepreneurship and Innovation, University of Chicago, Booth School of Business
Exporting: The Definitive Guide to Selling Abroad Profitably is for entrepreneurs and small business owners--the makers, movers, and shakers in our world--interested in taking their businesses to the next level of growth through exports.
In the old days, creating an international business was left to relatively few--those with the wherewithal to move boatloads of goods into foreign countries. But now, thanks to the Internet, businesses of all sizes have a huge new opportunity to sell both goods and services globally. Yet only 1% of all U.S. businesses export. Why?
Typically, exporting begins with unsolicited inquiries from foreign customers on the web via email, website, blog, or posting on a Facebook page. People outside your country want your product, and they want it now. The problem is that most small business owners do not know how to service these inquiries. What's the best way to ship goods? Do I need a license? Should I sell through wholesalers in specific countries or directly to consumers? How will I get paid?
Help is here--Exporting equips you with the knowledge you need to market, sell, and fulfill orders internationally, taking full advantage of the Internet and the opportunities it creates. It also imparts a can-do spirit on exporting, leading to greater revenues, stability, and profitability for your business. Exporting: The Definitive Guide to Selling Abroad Profitably
Lays out simple steps to conduct market research, find customers, open new markets, get paid, and ship goods and services.
Takes you through the exporting process via the Internet and other means.
Shows how to use social media to expand your international presence.
Provides insider tips and strategies to export efficiently and profitably.
Explains how the U.S. government helps exporters.
Walks readers through the export business plan.
With 70 percent of global buying power lying outside U.S. borders, exporting is not just an option for ambitious entrepreneurs--it's an absolute must for building and sustaining a successful future.
About the Author
---
Laurel J. Delaney, M.B.A., is founder and president of Chicago-based GlobeTrade.com, a management consulting company that helps entrepreneurs and small businesses go global. The United States Small Business Administration has recognized Ms. Delaney as a world-renowned global small business expert by naming her the Illinois Exporter of the Year. She is the author of Start and Run a Profitable Exporting Business as well as numerous articles that have appeared in international and scholarly publications such as The Wall Street Journal and The Conference Board. She is the creator of The Global Small Business Blog (http: //www.globalsmallbusinessblog.com), which is ranked No. 1 in the world for entrepreneurs and small businesses interested in going global, and Women Entrepreneurs GROW Global (http: //www.WomenEntrepreneursGROWGlobal.org). She serves as the About.com Import & Export Guide (http: //importexport.about.com/), is a charter member and a board member by appointment of the World Entrepreneurship Forum, and is a member of the International Council for Small Business. She also serves as the Chicago Chapter Chair for the Women Presidents' Organization. Ms. Delaney's passion for going global goes back to 1985 when she first started her business. Since then, she has devoted more than 50,000 hours of work in the area--from consulting to writing to teaching.