You are here
Back to top
Standard Catalog of Military Firearms: The Collector's Price & Reference Guide (Paperback)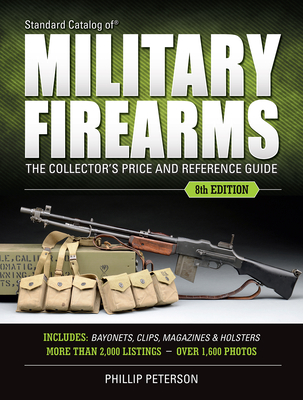 Description
---
Your No. 1 guide to military guns
From military handguns, rifles and shotguns to Class III automatic firearms,
Standard Catalog of Military Firearms, 8th Edition
, is the complete, illustrated military firearm pricing and identification guide to the world's military firearms. This completely updated edition includes more than 2,000 models of military firearms manufactured since 1870, as well as more than 1,600 photos. From Mauser 98s to M1 Garands and Russian guns, it's all here.
Detailed descriptions and values for military firearms from around the world
Identification advice and quality photographs help you analyze your collection
The only price guide with extensive coverage for military firearm accessories
Updated prices for handguns, submachine guns, rifles, shotguns and machine guns
Special 16-page color photo section highlighting sniper rifles of the world
The enormous amount of price values, descriptions and photos in
Standard Catalog of Military Firearms, 8th Edition
will provide the knowledge you need to buy, sell or trade collectible military firearms with the utmost confidence. Know what your collection is worth--don't pay too much or sell for too little.
About the Author
---
Phillip Peterson is a full-time, federally licensed firearms dealer with more than 25 years of experience in military firearms and collectibles. A certified master gunsmith, Peterson has been a featured columnist for Gun Digest the Magazine and is also the editor of Modern Gun Values, Gun Digest Buyer's Guide to Tactical Rifles, and four previous editions of Standard Catalog of Military Firearms.