You are here
Back to top
Healthcare Made Easy: Answers to All of Your Healthcare Questions under the Affordable Care Act (Paperback)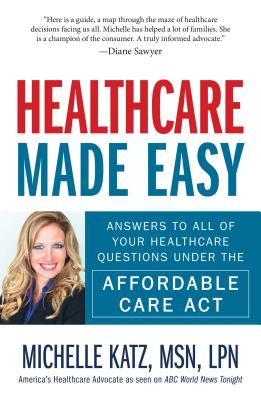 Description
---
An easy-to-understand guide to the Affordable Care Act!
Written by
ABC World News
' Real Money expert and healthcare advocate Michelle Katz,
Healthcare Made Easy
is the ultimate resource for understanding and navigating the Affordable Care Act. Using simple and easy-to-follow language, she answers important questions about the ACA, such as:
Are there any exemptions to buying insurance under the Affordable Care Act?
What is the new "80/20 Rule"? And what exactly is the Early Retiree Reinsurance Program?
What does the ACA mean for small businesses? What benefits must you offer and what are the tax breaks?
What is covered for your children under the new CHIP laws?
How can you get pharmaceutical companies to lower your prescription costs?
With the expert advice in
Healthcare Made Easy
, you will learn how to get the most out of your healthcare plan without having to sacrifice your needs or empty your pockets.
"Here is a guide, a map through the maze of healthcare decisions facing us all. Michelle has helped a lot of families. She is a champion of the consumer. A truly informed advocate." --Diane Sawyer
"Michelle breaks down complicated laws and insurance regulations to make them understandable to everyone. She provides you with a road map to getting the best healthcare at the most affordable prices." --Tavis Smiley, Author, Television and Radio Host
About the Author
---
Michelle Katz, MSN, LPN is a healthcare advocate, nurse, Real Money expert for ABC World News, and the author of Healthcare for Less and 101 Health Insurance Tips. She was a senior healthcare consultant at Arthur Andersen and consulted in the development of congressional healthcare legislation. Katz's healthcare tips and advice have been featured on NBC's Today Show, CBS Evening News with Katie Couric, Good Morning America, and World New Tonight with Diane Sawyer.