You are here
Back to top
Learn English Paragraph Writing Skills: ESL Paragraph Essentials for International Students (Paperback)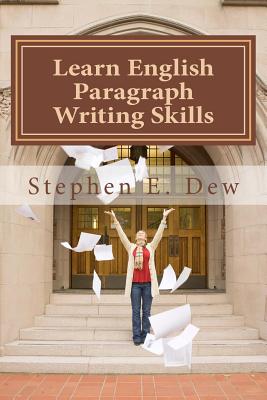 $6.87
Usually Ships in 1-5 Days
Description
---
New and Revised Edition II
Learn English Paragraph Writing Skills: - ESL Paragraph Essentials for International Students.
Learn English Paragraph Writing Skills is an academic writing skills guide for International ESL students. The book is the first in a series of academic writing handbooks for international undergraduates, graduates, high school students, and mature age students of English as a second language. It was designed as supplementary guide to support IELTS and ESL students' regular English classes.
What's in it for You?
It specifically addresses academic paragraph writing skills and development. In particular, it covers:
What academic writing is
Paragraph format and structure
Paragraph organisation
In addition, it covers more comprehensively the areas of capitalization, punctuation, and sentence structure.
The last part, The Academic English Writing Process, details the essential steps to create a mature and confident academic paragraph writer.
As the book was designed as a supplementary paragraph writing guide, it does not contain any exercises. It only contains rules, examples, and simple explanations written by an experienced TESOL instructor.
This unique academic writing skills guide will teach you good academic writing skills for university entrance. Ideal for the International ESL Student.
Get better results with Academic Writing Skills series.
To the purchaser,
I am so happy to be releasing the latest edition (edition II) of "Learn English Paragraph Writing Skills: ESL Paragraph Essentials for International Students."
After receiving some feedback about my first book, "Academic Writing for Graduate Students," released in May 2013, I decided to release a new and improved edition II.
Some of the feedback I received from my ESL students included:
The tables are not easy to read or well formatted.
The cover is not very interesting or exciting.
The writing process could be expanded.
Formatting could be improved.
Some errors were also evident.
So what's Changed?
To provide the best possible experience for my ESL students, I have released edition II with:
Images for some tables that have been inserted into an appendix.
Additional images have been added for more clarity.
A new and hopefully inspiring cover and title that people like.
An expanded English writing process explaining more practically "How to write a paragraph or essay."
Improved formatting for each of the sections.
Fixed issues with grammar, spelling, and missing words.
I am always open for feedback and will continue to improve and provide the best practical academic writing skills books for international ESL students.
Write your way to BA
About the Author
---
The author, Stephen E. Dew, is a veteran of 33 years in the Telecommunication Industry in Australia. He obtained an Associate Diploma in Engineering in 1997 and achieved several units towards a Graduate Certificate in Management by 2004. After leaving the Telecommunications sector in 2008, he traveled SE Asia and settled in Cambodia, where he obtained TESOL qualifications in 2010, and a Graduate Diploma in Enterprise Applied Management in 2011. He now teaches English at a well renowned University in Phnom Penh.