You are here
Back to top
Illustrated Catalogue of the Notable Autograph Collection: Of the Late Josiah Henry Benton (Paperback)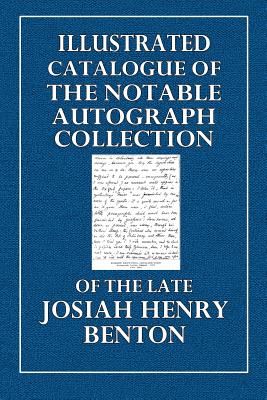 Description
---
From the PREFATORY NOTE REGARDING THE BENTON AUTOGRAPH COLLECTION.
The Collection of Autograph Letters of the late Josiah H. Benton, is, on account of the Notable Personages represented, and the historical, political and literary information contained therein, one of the most important and interesting collections of autograph material offered in recent years at public sale in America.
Not only did Mr. Benton obtain letters of the more notable personages in the field of American politics, history, literature and drama, as well as some important additions of British and French authors and statesmen; but, he also succeeded remarkably in his aim of collecting such examples as should contain interesting information relative to the writers' connection with important events of the period.
With a few exceptions, every letter is accompanied by a portrait (in most cases engraved) of the writer, as well as by a typewritten transcript of the letter; while in a great number of instances a typewritten biographical note taken from Appleton's Biographical Cyclopedia accompanies the same. In all cases, the letter with its accompanying transcript and portrait are neatly hinged to a specially prepared paper fold, thus allowing of the easy turning of the page. In many instances, the portrait, and in a few cases the original letter, are neatly inlaid.
Among the special features of the collection are Signed Autograph Letters by All the Presidents and Vice-Presidents of the United States from Washington to the present day; All the Chief Justices, and most of the Associated Justices of the United States Supreme Court; many of whom are represented by more than one letter....