You are here
Back to top
Judy Moody Predicts the Future (Paperback)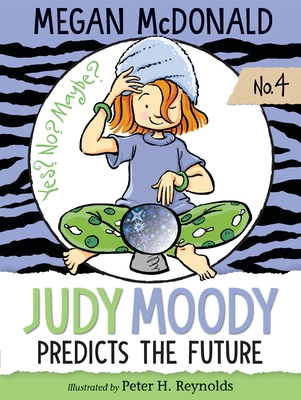 $5.99
Usually Ships in 1-5 Days
Description
---
With the help of a mood ring and a Magic 8 Ball, Judy Moody is convinced she can foretell the future!

Judy has a mood ring, and its Extra Special Powers have put Judy in a predicting mood. But her outrageous predictions have everyone wondering if Judy really is psychic. According to "Madame M" (for Moody), the Toad Pee Club's long-lost mascot will reappear, Judy will earn the coveted Thomas Jefferson tricorn-hat sticker, and love just might be the real reason behind her teacher's new eyeglasses.
About the Author
---
Megan McDonald is the author of the popular and award-winning Judy Moody series. She says, "Mood rings were magic to me as a kid growing up in the seventies. When I saw them making a comeback, I knew right away that Judy Moody had to have one. Only Judy would think she could slip on a mood ring and see the future! But isn't it true, after all, that we each have a part in making our own way?" Megan McDonald lives with her husband, two dogs, two horses, and fifteen wild turkeys.

Peter H. Reynolds is the illustrator of all four Judy Moody books. He says of this latest title, "JUDY MOODY PREDICTS THE FUTURE touches on a powerful theme - being able to envision the future. Judy playfully explores the concept while inspiring the reader to do the same. It is my hope that Judy will inspire readers to predict a future filled with good moods - peaceful moods."
Praise For…
---
[Judy's] 4th grade world is mild-mannered: Boys and girls are still friends and still goofy.
—Chicago Tribune

Prediction: another winner starring Judy Moody.
—School Library Journal

JUDY MOODY PREDICTS THE FUTURE in the famously temperamental third-grader's fourth adventure . . . Here Judy, equipped with a mood ring, convinces herself and her classmates of her clairvoyant capabilities.
—Publishers Weekly

McDonald has a wonderful sense of how eight-year-olds think and behave, and the irrepressible Judy is completely believable as she careens out of control in the classroom . . .
—Booklist