You are here
Back to top
Great Group Games: 175 Boredom-Busting, Zero-Prep Team Builders for All Ages (Paperback)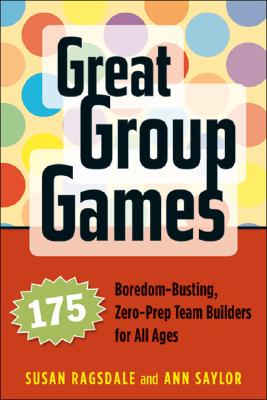 Description
---
Whether it's the kick-off of an event, a 20-minute gap between functions, or an all-day or multiday retreat, this sourcebook suggests a wide array of solutions for keeping young people upbeat, engaged, and unified. Offering icebreakers, "straight-up" games, and reflection activities, the book provides instructions for staging meaningful, fun interactions that encourage participants to think. Games are organized in sections identifying various stages of group-building, ranging from establishing foundational relationships and building upon them to transitions and celebrations. Among the games included are: Change Over—turn a tarp completely over while always remaining on the tarp; Common Ground—Which team has the most in common?; and You're a Star—team members guess whose celebrity name is on their backs. Details on timing and supplies are also featured for each activity.
About the Author
---
Susan Ragsdale and Ann Saylor are nationally recognized trainers and program consultants in the youth and community development field. As cofounders of the Center for Asset Development, they have equipped youth and adults in agencies such as the YMCA of the USA, Americorps, and the Tennessee Department of Health. They are the coauthors of Building Character from the Start, Great Group Games for Kids, and Ready to Go Service Projects. Susan Ragsdale lives in Nashville, Tennessee. Ann Saylor lives in Pleasant View, Tennessee.
Praise For…
---
"Encourage cooperation and develop team spirit with the activities in this book." —Learning
Any opportunity we have to promote asset building, team building, and create awareness is one we should be taking. This book is a powerful tool." —Kim Graham, founder and president of Teen Intervention (North Carolina)
"An excellent handbook to remind us of the importance of play to learning about all the important lessons of life." —Sue Allen, executive director, Wisconsin Positive Youth Development Initiative, Inc.
"An easy reference for group leaders to find just the right 'lesson.''' —Doralee Ely, 4-H youth development regional specialist, University of Missouri Extension Services
"I encourage anyone who wants to have fun in productive ways with youth to make this a part of their library." —Pam Garza, director, National Youth Development Learning Network
"Great ideas for getting a workshop, meeting, or retreat off to a good start." —Alice Ann Moore, director, 4-H youth development, University of Tennessee
"This wonderful resource book is chock full of playful yet effective ways to form trust and develop community!" —Rick Jackson, codirector, Center for Courage & Renewal, Bainbridge Island, Washington
"Helps kids to just be kids and learn important lessons while building essential developmental assets." —Sharon Williams, teen membership and program specialist, YMCA of the U.S.A.