You are here
Back to top
101 DIY Baby Food Pouches: Incredibly Easy Recipes for Reusable Pouches (Paperback)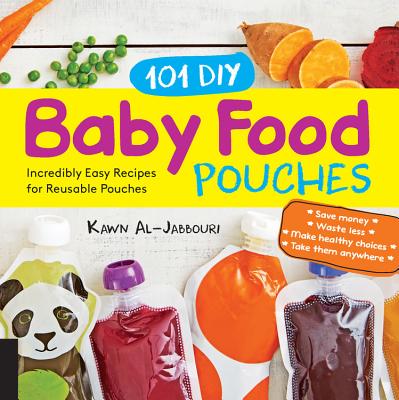 $15.99
Usually Ships in 1-5 Days
Description
---
Feed your baby better, save money, and waste less with the homemade puree recipes in 101 DIY Baby Food Pouches.

Starting your baby on solids is an exciting developmental period that comes with many choices and some challenges. With baby keeping you very busy already, the convenience and portability of prepackaged, squeezable purees, are hard to resist—but they are expensive, and laden with preservatives. Lucky for you, making homemade purees is easier than you may think! 101 DIY Baby Food Pouches gives you the guidance, confidence, and inspiration you need to make food pouches at home.

With just a little coaching, you will:
Save money with homemade food pouches
Make healthy choices by picking every fresh ingredient to add to your pouch
Reduce waste by reusing your DIY pouches again and again
Always be ready for meals by making purees in batches and freezing them for later
Easily combine flavors and experiment with new foods
The book conveniently divides the recipes by savory and sweet combinations. Savory recipes include Sweet Potato and Kale; Asparagus, Chickpea, and Sweet Potato; and Kidney Beans, Parsnip, Beets, and Beef. Sweet recipes include Apricot Raspberry Puree and Plum, Apple, Mint, and Yogurt. 

Ideal for parents always on the go, 101 DIY Baby Food Pouches includes instructions for filling your own pouches and—you guessed it—101 recipes to inspire you. DIY food pouches are cheaper, healthier, and eco-friendly—the perfect solution for busy families.
 
Ready, set...pouch! 
About the Author
---
Kawn Al-jabbouri runs the hugely popular Instagram account @babyfooduniverse and website www.kidsfooduniverse.com, where she posts healthy baby food and toddler food recipe ideas. She lives in Denmark.
Anni Daulter is a professional cook, advocate of sustainable living, and author of Bountiful Baby Purees, Organically Raised: Conscious Cooking for Babies & Toddlers (Rodale, May 2010) and Ice Pop Joy (Sellers). She also founded and operated the fresh, organic baby food company, Bohemian Baby, for three years, for which she developed all recipes and branding. Her food was sold to top celebrity babies, including the children of Gwyneth Paltrow, Adam Sandler, Christy Turlington, Stevie Wonder, Bridget Fonda, Debi Mazar, the late Heath Ledger, Angela Bassett, and many others. Bohemian Baby food was featured in more than 60 articles and was sold in local Whole Foods stores. Anni now writes cookbooks with a healthy focus for families. Her website, Conscious Family Living, can be found at www.annidaulter.com. She lives in Pennsylvania. 
Kelly Genzlinger, MS, CNC, CMTA, has dedicated many years to the study of nutrition and foods' effects within the human body. She is a traditional-foods advocate in her community and is dedicated to promoting wellness for her children, family, and nutritional clients. An author, speaker, and certified nutritional consultant, Kelly is proud to have changed the lives of countless children and adults with her teachings, guidance, and counsel related to whole, real, traditional foods. Her first book, Sugar...Stop the Addiction, addressed the national crisis of excessive sugar consumption. She has been a featured speaker at wellness symposiums and a guest on cable shows, such as Diabetes Countdown and The Bottom Line. She resides in Birmingham, Michigan.
Katherine Erlich, MD, is a board certified pediatrician and mother of two who practices out of one of the largest holistic medical center's in the Midwest. Prior to starting her now thriving pediatric practice, she spent over a decade in a busy, conventional pediatric practice where she gained extensive clinical experience. Currently, at Healing the Whole Child, PLLC, Dr. Erlich guides her patients to better health through an individualized medical approach, integrating nutrition, holistic philosophies and traditional medicine. Dr. Erlich has been instrumental in creating her school district's Wellness Committee, featured on the news, and has authored articles printed in several publications. She lives in Franklin, Michigan.