You are here
Back to top
How to Contact Celebrities for Fun and Profit (Paperback)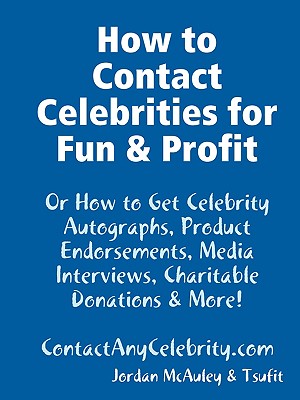 Email or call for price.
Usually Ships in 1-5 Days
Description
---
Have you ever wanted to contact your favorite celebrities for autographed photos, product endorsements, media interviews, or charitable donations? Now you can In this Special Report, Tsufit of "Step Into the Spotlight " interviews Jordan McAuley, Founder and President of Contact Any Celebrity (www.ContactAnyCelebrity.com). You'll discover how to approach celebrities by mail, in person, and online to get the response you want; how to get autographed photos from your favorite celebrities; how to get celebrity endorsements and testimonials for your products and services; how to get charitable donations from celebrities to raise money for your cause; insider secrets on ways to use celebrities in your business; how to get celebrity book endorsements; how to target celebrities that are the most willing to donate to your cause, charity or nonprofit; how to get past gatekeepers and receptionists; how to make sure your letter gets from the mail room to the celebrity instead of thrown away; plus much more.