You are here
Back to top
The Celebrity Black Book 2012: Over 60,000+ Accurate Celebrity Addresses for Autographs, Charity Donations, Signed Memorabilia, Celebrity Endorsement (Paperback)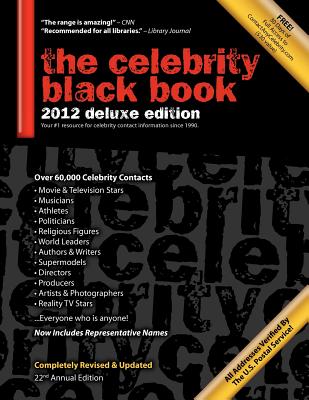 Email or call for price.
Usually Ships in 1-5 Days
Description
---
The Celebrity Black Book 2012 contains the best celebrity addresses and celebrity contact information for over 60,000 public figures worldwide. Whether you're a fan, business person, nonprofit, author or a member of the media, you're bound to find this book useful. Everyone who is anyone is inside: actors, athletes, musicians, politicians, world leaders, artists, and authors... even reality TV stars The Celebrity Black Book 2012 is a staple for fans who want to request autographs, nonprofits who want signed memorabilia so they can hold an autograph auction to raise money for their cause, businesses who want to get their products and services into the hands of celebrities, authors who want to get celebrity endorsements for their books, and members of the media who want to get an interview or a quote. There are so many uses, the possibilities are endless This edition contains a free 30-day Membership to ContactAnyCelebrity.com -- a $30.00 value Look What People Are Saying: "The range is amazing - this thing is huge " - CNN "I can do so much with this " - Perez Hilton "Many small businesses, publicists, and marketers want to get their products into celebrities' hands. This book is the solution." - Entrepreneur Magazine "Of all the resources for celebrity addresses, this book is far and away the most useful. It is essential for any serious autograph collector. Indispensable " - Autograph Magazine "Similar titles do not boast as many entries. If your library needs a current celebrity address book, this would be good. Recommended for all libraries." - Library Journal "A superb, quick and easy-to-use reference for entertainment professionals and fans alike." - Midwest Book Review "This guide offers priceless information that would otherwise take hours to research. Owning this book is like cutting six degrees of separation down to one simple degree." - Curled Up With A Good Book "The time saved by already having the celebrity's contact information rather than Googling and cold-calling will certainly pay for this book in the long run." - Absolute Write "Some of the best money you'll ever spend. This book is an excellent value and provides you (and me) with great publicity opportunities." - Paul Hartunian, Free Publicity Information Center "The most helpful book I have ever owned. Worth every penny." - Jill Jackson, Syndicated Columnist, Jill Jackson's Hollywood "If you opt to pursue a celebrity or celebrities on your own or to use in your advertising, or to get a 'blurb' from for your book, this is the place to get contact information." - Dan Kennedy, No B.S. Guide to Marketing to the Affluent.