Temporary Store Closure, Keep Supporting Online!
We are currently closed until further notice due to COVID-19.
PLEASE keep supporting us so we can be here for you for years to come. Here is an easy way:
https://bookshop.org/shop/page2books
Order through this link, support Page 2 Books, and have your books shipped directly to your front door.
Note: Make sure you type the ENTIRE address in, or we will not receive credit for your purchase!
You can also support us through purchasing audiobooks at Libro.fm
You are here
Back to top
The Cure That Works: How to Have the World's Best Healthcare -- at a Quarter of the Price (Hardcover)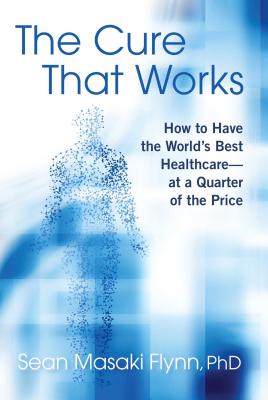 $28.99
Usually Ships in 1-5 Days
Description
---
What's the Most Important Fact About the Heathcare Crisis? That We Already Know the Cure!

Whole Foods Markets, the State of Indiana, and innovators around the world have used forgotten American ideas to slash healthcare costs by 75 percent while simultaneously delivering true universal access, coverage for preexisting conditions, and an ironclad safety net.

Economics for Dummies author Sean Flynn explains that simple things—like price tags, competition, and plentiful health savings contributions—crush costs while granting everyone equal access to the world's best healthcare services.
About the Author
---
Sean Flynn is an entrepreneur, economist, and educatuator dedicated to bringing affordable, high-quality healthcare to the United States. Born on Clark Air Force base in the Philippines, Flynn's father was a WWII combat veteran and his mother was a Japanese immigrant and student. When Sean was four years old the family moved to California, whereh is mother won a U.S. Navy scholarship, attended medical school, and became Lieutenant Commander in the Medical Corps of the United States Navy.

Sean Flynn received his bachelor's degree and a master's degree in economics at the University of Southern California and went on to receive his doctorate in economics at U.C. Berkeley, studying under Nobel Laureates George Akerlof and Daniel McFadden. He has since taught at Vassar College in New York and Scripps College in Claremont.

Sean is the author of international bestseller Economics for Dummies and a co-author of one of the world's bestselling economics textbooks.
Praise For…
---
"Sean Masaki Flynn is a member of two endangered species: sane Republicans who care about getting good policy and economists who can explain things. His take on the mess that is American healthcare financing is clear, coherent and—I think—largely correct."
— Brad DeLong

"This is a must-read book for anyone who wants to solve the problems with the American health system."
— Deborah Freund

"The Cure that Works presents thoroughly tested and documented reforms that can work here in the United States. Sean Flynn outlines the missing links that can provide every American with the highest quality healthcare outcomes."
— Vidar Jorgensen