You are here
Back to top
Bacon & Butter: The Ultimate Ketogenic Diet Cookbook (Paperback)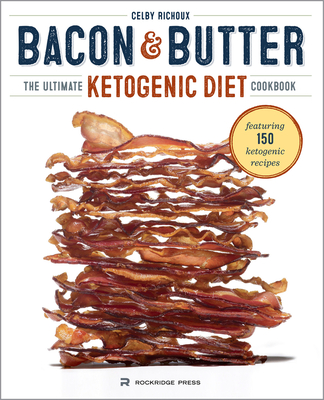 $17.99
Usually Ships in 1-5 Days
Description
---
Become a lean, mean, eating machine the keto way--150 fat-burning cookbook recipes you'll crave.
For many of us, the idea of dieting conveys unpleasant notions of flavorless piles of lettuce and overpriced freezer meals. But the secret to losing weight isn't starving yourself or eating processed "diet food." With Bacon & Butter: The Ultimate Ketogenic Diet Cookbook you'll begin dropping pounds immediately--and learn how to keep them off for good--by following a low-carb, high-fat ketogenic diet packed with tasty, wholesome meals that you'll love.
Your journey towards a healthier life and slimmer waistline begins here and now, with useful features such as:
150 delicious ketogenic diet recipes that will keep your body in ketosis, complete with nutritional information for each recipe
Clear guidance on what ketosis is and which foods are truly keto-friendly
Knowledgeable guidance from Celby Richoux who has experienced firsthand the incredible, transformative results of the ketogenic diet
Ideas for how to stick to your new ketogenic diet--from common social situations like office parties to holiday dinners
Whether you've come to keto through the guidance of your doctor or you're looking for a sustainable way to lose weight, Bacon and Butter is your complete ketogenic diet resource for keeping your diet on track and your taste buds happy.
About the Author
---
CELBY RICHOUX was overweight, exhausted, moody, and suffering from a range of physical discomforts when she found the ketogenic diet. But all that changed once she adopted its high-fat, low-carb principles. Now she is finally able to control her weight and energy levels by eating the foods she loves. With her first cookbook, Bacon and Butter, she hopes to share with others her new appreciation for overall health and nutrition.