You are here
Back to top
Trump: The Greatest Show on Earth: The Deals, the Downfall, and the Reinvention (Paperback)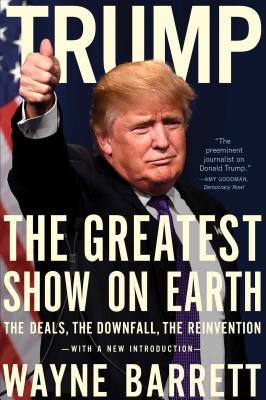 Description
---
The essential book to understanding Donald Trump as a businessman and leader—and how the biggest deal of his life went down.

Now, Barrett's classic book is back in print for the first time in years and with an introduction about Trump's 2016 presidential campaign.

Donald Trump claims that his success as a "self-made" businessman and real estate developer proves that he will make an effective president, but this devastating investigative account by legendary reporter Wayne Barrett proves otherwise. Back in print for the first time in years, Barrett's seminal book reveals how Trump put together the biggest deal of his life—Trump Tower—through manipulation and deceit; how he worked with questionable characters from the mafia and city politics; and how it all nearly came crashing down. Here is a vivid and inglorious portrait of the man who wants now to be the most powerful man in the world.

In Trump: The Greatest Show in the World—The Deals, the Downfall, the Reinvention, Barrett unravels the myth and reveals the truth behind the mogul's wheelings and dealings. After decades covering him, few reporters know Trump as Barrett does. Instead of the canny businessman that Trump claims in his own books, Barrett explores how Trump exploited his father's banking and political connections to finance and grease his first major deals. Barrett's investigative biography takes us from the days of Donald's lonely youth to his brash entry into the real estate market, and to the back room deals behind his New York, Atlantic City and Florida projects.

Most compellingly Barrett paints an intimate portrait of Trump himself, a man driven by bravado, obsessive self-regard, and an anxious ruthlessness to subdue his rivals and seduce anyone with the power to aid his empire. We see him head to head with an opponent as powerful as Pete Rozelle, ingratiating himself with the brooding governor on the Hudson, and fueling the Drexel engine driven by Michael Milken with hundreds of millions in fees—paid, ironically, by gaming companies to fend off Trump takeovers. We explore his complicated emotional and business relationship with his first wife, Ivana, and the use he planned to make of his mistress—and later, his second wife—Marla Maples as a "southern strategy" in his then contemplated presidential campaign. With interviews with scores of adversaries and former colleagues, we are given a privileged look at Trump the businessman in action—reckless as often as he is brilliant, reliant on threats as much as on charm, and ultimately a cautionary tale: is this the man we want to lead the world?

PRAISE FOR TRUMP:

"Trump is a withering portrait of the most self-mythologized and promoted businessman of our era, an exhaustively researched and long-overdue antidote to Trump's own books. It is a penetrating portrait of the age that spawned him and the many who aided and abetted his rise. Trump seems destined to be the definitive account of how Trump got ahead and why he fell. It is a sad story, with important lessons for us all." —James B. Stewart, Pulitzer Prize–winning author of Den of Thieves

"Donald Trump surprises us again. Wayne Barrett's Trump is a fresh, detailed, and vivid account of the tangled connections of money, politics, and power in our times." —Nicholas Pileggi, author of Wiseguy
About the Author
---
Wayne Barrett is an investigative reporter who's written about New York for more than four decades and did the first major pieces on Donald Trump in the 1970s. A senior editor at the Village Voice until 2010, he's also written for The Daily Beast, New York magazine, The Nation, and NY Daily News. His books include City for Sale, Rudy!: An Investigative Biography, and Grand Illusion, which collectively covered the Koch through the Giuliani administrations. The New York Times called him "the master of chronicling the underbelly of New York City politics."
Praise For…
---
"Trump is a withering portrait of the most self-mythologized and promoted businessman of our era, an exhaustively researched and long-overdue antidote to Trump's own books."

— James B. Stewart, Pulitzer Prize-winning author of Den of Thieves

"[T]he gold standard account of Trump's first act in real estate and business."

—Dara Lind, Vox.com

"Donald Trump surprises us again. Wayne Barrett's Trump is a fresh, detailed, and vivid account of the tangled connections of money, politics, and power in our times."

— Nicholas Pileggi, author of Wiseguy

"Nobody has written as many informed and perceptive stories about Trump as investigative reporter Wayne Barrett."

— The National Memo

"The preeminent journalist on Donald Trump."

—Amy Goodman, Democracy Now!