You are here
Back to top
Manfried the Man: A Graphic Novel (Paperback)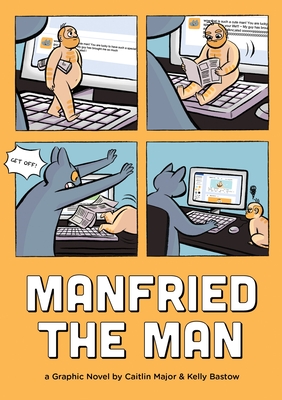 $14.99
Usually Ships in 1-5 Days
Description
---
In this hilarious graphic novel, the roles of cats and humans are reversed, putting humanoid felines in charge of tiny, dimwitted little man-pets.

Manfried is a stray taken in by Steve Catson, a slacker with a dead-end job and nonexistent love life. Soon Manfried becomes the Garfield to Steve's Jon Arbuckle: lazy, selfish, and sometimes maddening in his weird human behavior. Yet the pair depends on each other to get through life's troubles. When Manfried runs away, Steve musters his meager resources to find his best man-friend and bring him home safe. Ultimately, both Steve and Manfried realize they're capable of so much more than they thought.
About the Author
---
Caitlin Major is a Toronto-based comics writer and illustrator. She and her partner, Matthew Hoddy, have run successful Kickstarter campaigns to print comics Space Pyrates and The Saga of Metalbeard. Caitlin also works as an animation compositor at Skyship Entertainment, a small animation studio in Toronto that specializes in kids' programming on YouTube.

Kelly Bastow is an illustrator and comics creator best known for her ink and watercolor paintings of landscapes and body positivity. Kelly illustrated Quirk's The Fangirl's Guide to the Galaxy and has drawn for the comics Lumberjanes, Adventure Time, and Capture Creatures.
Praise For…
---
"A simple tale of affection, devotion, and worry...though its narrative beats are familiar, that makes them no less adorable."—Vulture

"There's something in this story that can resonate with everyone - even if you're more of a dog person."—Newsarama

"Anyone who loves their pets as much as (or more than) they do other humans will happily read it cover to cover."—Philadelphia Life

"A delightful twist on the human/cat relationship."—Library Journal

"An entertaining and often laugh-out-loud twist on reality."—Foreword Reviews

"A surprisingly sweet story about companionship."—Publishers Weekly

"There's real emotional heft to the tale...but the humour of the premise, Kelly Bastow's bright, simple art, and a hopeful ending that revolves around friendship, keeps everything ultimately sweet."—Book Mine Set

"Major and Bastow have a keen eye for details and a lot of the humor comes because they have thought things through to their logical and hilarious conclusions...But also because the life of Steve Catson is so sensitively drawn, and reminds us of people we know, or including ourselves."—Sequential Tart

"Readers get a glimpse of an entire feline-run world, rife with animal puns and little nude men yelling 'Hey!'"—Publishers Weekly