You are here
Back to top
Deep Learning Fundamentals: An Introduction for Beginners (Paperback)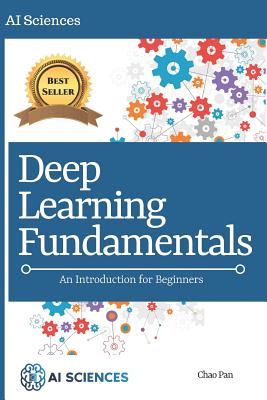 Description
---
***** BUY NOW (will soon return to 21.89 $) ***** MONEY BACK GUARANTEE BY AMAZON ***** Free eBook for customers who purchase the print book ****** Are you thinking of learning deep Learning fundamentals, concepts and algorithms? If you are looking for a complete beginners guide to learn deep learning with examples, in just a few hours, this book is for you.This book is the first part of the book deep learning with Python write by the same author. From AI Sciences Publisher Our books may be the best one for beginners; it's a step-by-step guide for any person who wants to start learning Artificial Intelligence and Data Science from scratch. It will help you in preparing a solid foundation and learn any other high-level courses.Instead of tough math formulas, this book contains several graphs and images. Book Objectives
Have an appreciation for deep learning and an understanding of their fundamental principles.
Have an elementary grasp of deep learning concepts and algorithms.
Have achieved a technical background in deep learning and neural networks.
Target Users
Anyone who is intrigued by how algorithms arrive at predictions but has no previous knowledge of the field.
Software developers and engineers with a strong programming background but seeking to break into the field of machine learning.
Seasoned professionals in the field of artificial intelligence and machine learning who desire a bird's eye view of current techniques and approaches.
What's Inside This Book?
Introduction
Teaching Approach
What is Artificial Intelligence, Machine Learning and Deep Learning?
Mathematical Foundations of Deep Learning
Machine Learning Fundamentals
Fully Connected Neural Networks
Convolutional Neural Networks
Recurrent Neural Networks
Generative Adversarial Networks
Deep Reinforcement Learning
Introduction to Deep Neural Networks with Keras
Sources & References
Frequently Asked QuestionsQ: Is this book for me and do I need programming experience?A: if you want to smash Machine Learning from scratch, this book is for you. No programming experience is required. The present only the fundamental concepts and algorithms of deep learning. It will be a good introduction for beginners.Q: Can I loan this book to friends?A: Yes. Under Amazon's Kindle Book Lending program, you can lend this book to friends and family for a duration of 14 days.Q: Can I have a refund if this book doesn't fit for me?A: Yes, Amazon refund you if you aren't satisfied, for more information about the amazon refund service please go to the amazon help platform.***** MONEY BACK GUARANTEE BY AMAZON ***** Editorial Reviews
"This is an excellent book, it is a very good introduction to deep learning and neural networks. The concepts and terminology are clearly explained. The book also points out several good locations on the internet where users can obtain more information. I was extremely happy with this book and I recommend it for all beginners"
- Prof. Alain Simon, EDHEC Business School. Statistician and DataScientist.
"This book wasexcellent for beginners who need to use deep learning techniques in the realworld. The book explain a method, concepts and applications. Then it show you the construction of the algorithms and finished off with what you would actually use in practice. It very easy book to follow and understand. I would recommend this to anyone looking to develop a step-by-step understanding of deep learning."