You are here
Back to top
Working Globesmart: 12 People Skills for Doing Business Across Borders (Paperback)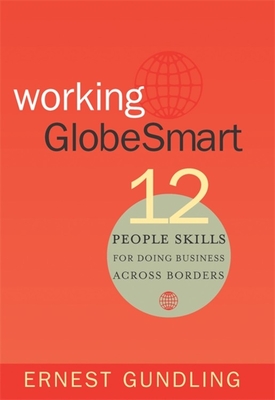 $43.69
Usually Ships in 1-5 Days
Description
---
Taking a new assignment in your company's foreign office? Meeting a business associate from another country? Videoconferencing with a group of global co-workers? Negotiating a project deadline with the foreign software engineer across the hall? Learn how to apply a new set of cultural competencies to successfully cross national or cultural boundaries.

Working GlobeSmart shows how global people skills add value to global business and captures the essence of what global leadership means: the ability to create a corporate culture that builds cooperation across borders and cultures, between customers and suppliers-across every organizational line.
About the Author
---
Dr Ernest Gundling is a co-founder of MeridianEaton Global and is currently a senior Asia specialist and co-President of the company's operations and also coaches executives with global responsibilities and works with multicultural management teams. He is also a lecturer at the Haas School of Business at the University of California, and the author of two previous books, The 3M Way to Innovation and Working GlobeSmart. He lives in San Francisco. Anita Zanchettin is Director, Global Inclusion for MeridianEaton Global and has worked with companies such as Accenture, Amoco, Bayer, Caterpillar, Citibank, Dean Foods, Duracell, Ernst & Young, General Motors, Hewlett-Packard, Motorola, Panasonic, Procter & Gamble, Wal-Mart, and the World Bank. Ms. Zanchettin's areas of cultural expertise include Latin America, Europe, and the Middle East.
Praise For…
---
Engaging, thought-provoking. A good read even if you don't work globally. Many of the concepts apply right here at home.—Training

What you may not know about conducting yourself in international business would fill a book--this one.—getAbstract

This book aims to equip business executives with maps for navigating the often choppy waters of international business.—Triangle Business Journal

Offers practical, skills-based advice. Provides a road map for developing competence at the organizational, group and interpersonal levels.—Fort Worth Star-Telegram

Managers who understand why these skills are important find partners more likely to respond and work together for beneficial results.—Soundview Executive Book Summaries

In my position at Sumitomo 3M, I was fortunate to work closely with Ernest Gundling to build an effective personal communication style with my Japanese management team and with our employees. The insight and learnings in this book are a valuable resource for executives engaged in international and cross-cultural business leadership.—Jay V. Ihlenfeld, Vice President, Research and Development, 3M

In a world full of leadership advice, Ernest Gundling cuts through the complexity of global leadership issues and provides a model that is understandable and engaging. Any person or organization wrestling with global effectiveness would benefit from this book.—Richard M. Vosburgh, Vice President of Human Resources, Americas Enterprise Systems Group, Hewlett-Packard