You are here
Back to top
The Nocturnals: The Mysterious Abductions (Hardcover)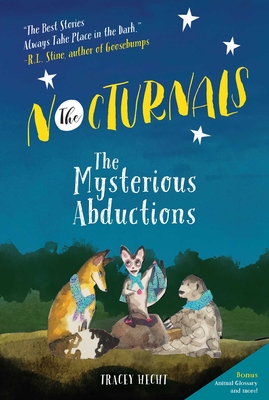 $15.99
Usually Ships in 1-5 Days
Description
---
"The best stories always take place in the dark " -- R.L. Stine
Animals are disappearing without a trace--and it's up to Dawn, Tobin and Bismark to find out why. With the help of a gentle wombat, a jittery jerboa, a band of coyotes and some kooky bats, the brigade journeys to the depths of the earth where they find themselves in a wacky, high stakes game that will determine all of their survival
In the first book of the critically acclaimed middle grade series The Nocturnals, we meet three unlikely friends--Dawn, a serious fox, Tobin, a sweet pangolin, and Bismark, the loud mouthed, pint sized sugar glider. Discover the friendships, teamwork, and humor, as the Nocturnal Brigade solves the unpredictable mysteries of the night.
Bonus full color illustrations at the start of each chapter
Visit the Nocturnals World online to download printable activities including makerspace crafts, word games, STEM projects, Bingo, language arts and science educator guides, and more
About the Author
---
Tracey Hecht is a writer and entrepreneur who has written, directed and produced for film. She splits her time between Oquossoc, Maine and New York City. This is Tracey Hecht's first middle grade series. Kate Liebman is an artist who lives and works in New York City. She graduated from Yale University, contributes to the Brooklyn Rail, and has shown her work at multiple galleries. She grew up in Santa Monica, California. This is her first children's book.