Temporary Store Closure, Keep Supporting Online!
We are currently closed until further notice due to COVID-19.
PLEASE keep supporting us so we can be here for you for years to come. Here is an easy way:
https://bookshop.org/shop/page2books
Order through this link, support Page 2 Books, and have your books shipped directly to your front door.
Note: Make sure you type the ENTIRE address in, or we will not receive credit for your purchase!
You can also support us through purchasing audiobooks at Libro.fm
You are here
Back to top
Baseball Prospectus 2020 (Hardcover)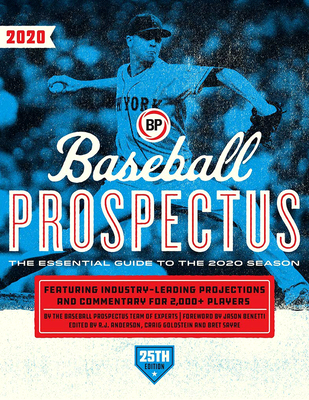 $49.95
Usually Ships in 1-5 Days
Description
---
The 2020 edition of The New York Times Bestselling Guide. PLAY BALL The 25th edition of this industry-leading baseball annual contains all of the important statistics, player predictions and insider-level commentary that readers have come to expect, along with significant improvements to several statistics that were created by, and are exclusive to, Baseball Prospectus, and an expanded focus on international players and teams. Baseball Prospectus 2020 provides fantasy players and insiders alike with prescient PECOTA projections, which The New York Times called "the berforecast of every player's performance." With more than 50 Baseball Prospectus alumni currently working for major-league baseball teams, nearly every organization has sought the advice of current or former BP analysts, and readers of Baseball Prospectus 2020 will understand why.