You are here
Back to top
Summary of the Plant Paradox Quick and Easy: The Hidden Dangers in Healthy Foods That Causes Disease and Weight Gain by Dr. Steven Gundry (Paperback)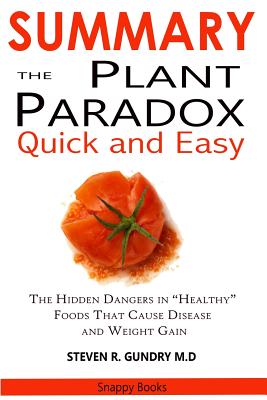 Description
---
Steven R. Gundry M.D on this Groundbreaking Plant Paradox Book Quick and Easy, states that Lectins are the plant world's way of fighting back against predators, such as ourselves who kill plants and feast on them. Lectins are toxic plant proteins that can force their way through the mucosal wall of our guts into the intestinal capillaries and thus throughout the body.
Leaky gut syndrome (intestinal wall hyper-permeability) results and leads to lectins confusing our immune system (autoimmune diseases) and disrupting cellular communication (diabetes and thyroid disorders, etc.)
Peanuts, cashews, legumes and tomatoes contain lectins and are very toxic. Tomatoes and legumes can be "defused" and eaten safely. Discover this and More In this Plant paradox Summary Book.
You are what you eat (as well as WHAT YOU EAT, ATE.) Corn fed beef and chickens therefore are filed with lectins too
Rules for Eating Healthy in the Plant Paradox:
" What you stop eating has far more impact on your health than what you start eating."
There are three more rules. Discover this and More in this Plant Paradox Summary
His idea is to live well with good health. Our current health care system prolongs life with symptom-addressing technology, even though the patient may be living a miserable poor health existence.
With Working 30-Day Plan For Weight Loss.
Dr. Gundry's motto: "Die young at an old age."
This book contains a comprehensive, well detailed summary and Analysis of the original book by Steven R. Gundry M.D. It summarizes the book in detail, to help people effectively understand, articulate and imbibe the original work by Peterson. This book is not meant to replace the original book but to serve as a companion to it
Contained in the Plant Paradox Summary is an:
Executive Summary of the original book

Key takeaways of each chapter and

Brief chapter-by-chapter summaries

Sample Meal For the Plant Paradox that you can start making Now to Burn Fat Forever
To get this book, Scroll Up Now and Click on the "Buy now with 1-Click" Button to Download your Copy Right Away
Disclaimer: This is a summary, review of the book Plant Paradox and not the original book.