Temporary Store Closure, Keep Supporting Online!
We are currently closed until further notice due to COVID-19.
PLEASE keep supporting us so we can be here for you for years to come. Here is an easy way:
https://bookshop.org/shop/page2books
Order through this link, support Page 2 Books, and have your books shipped directly to your front door.
Note: Make sure you type the ENTIRE address in, or we will not receive credit for your purchase!
You can also support us through purchasing audiobooks at Libro.fm
You are here
Back to top
Gesundheitsmanagement - Gesundheit der Mitarbeiter als strategischer Faktor für Wirtschaftlichkeit und Wettbewerbsfähigkeit (Paperback)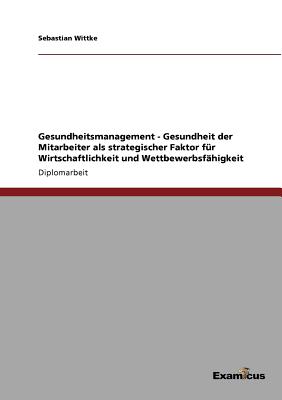 $34.39
Usually Ships in 1-5 Days
Description
---
Diplomarbeit aus dem Jahr 2006 im Fachbereich VWL - Gesundheits konomie, Note: 1, Verwaltungs- und Wirtschaftsakademie Essen, Sprache: Deutsch, Abstract: Das Ziel dieser Arbeit ist es, die grundlegenden Begriffe, die mit einem betrieblichen Gesundheitsmanagement in Verbindung gebracht werden, zu erl utern und Gr nde darzulegen, warum Unternehmen vermehrt ein BGM einf hren. Weiterhin sollen verschiedene Ma nahmen eines BGM vorgestellt werden und im letzten Schritt der betriebswirtschaftliche Aspekt betrachtet werden. Hierbei soll gekl rt werden, ob ein BGM in der heutigen Zeit aus betriebswirtschaftlicher Sicht notwendig ist und welche Einfl sse es auf die unternehmerischen Ziele nimmt. Diesbez glich werden m gliche betriebswirtschaftliche Analysen eines BGM vorgestellt. Der Einfluss des BGM auf die unternehmerischen Ziele, wie Wirtschaftlichkeit und Wettbewerbsf higkeit, und die Messbarkeit des Nutzens, stellen den Schwerpunkt dieser Arbeit dar, da nur der Nutzen von Ma nahmen in Zeiten eines immer gr er werdenden Wettbewerbs Relevanz besitzt.