You are here
Back to top
Multiplicadores (Paperback)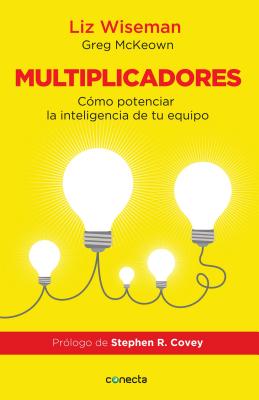 Description
---
Todos hemos conocido a dos tipos de líderes completamente distintos. Los del primer tipo drenan la inteligencia, la energía y las capacidades de quienes los rodean, y necesitan ser siempre los más inteligentes: se trata de líderes reductores. Masacran las ideas, taladran la energía y disminuyen el talento y el compromiso de los demás. Del otro lado del espectro están los líderes que usan su inteligencia para ampliar el intelecto y las capacidades de la gente a su alrededor. Cuando entran a una habitación se encienden focos sobre las cabezas de los presentes, las ideas fluyen y se resuelven los problemas. Son ellos quienes inspiran a los empleados a dar más de sí mismos para entregar resultados que superen las expectativas. Los llamamos multiplicadores. El mundo necesita más líderes de este tipo, sobre todo ahora, cuando se espera que quien está al mando logre más con menos recursos.

En este fascinante y práctico libro, Wiseman y McKeown han identificado las cinco disciplinas que distinguen a los multiplicadores de los reductores. Éstas no se basan en el talento innato, sino que son habilidades y prácticas que todos podemos aprender a usar, incluso los reductores más veteranos y recalcitrantes. Asimismo, los autores dan vida a cada una de estas disciplinas a través de estudios de caso reales y vívidos, así como consejos prácticos y técnicas para mostrarte cómo puedes convertirte en un multiplicador, ya seas nuevo en el negocio o un jefe con mucha experiencia. Imagina lo que lograrías si pudieras utilizar toda la energía y la inteligencia que te rodea. Multiplicadores te enseñará a hacerlo. ENGLISH DESCRIPTION A thought-provoking, accessible, and essential exploration of why some leaders ("Diminishers") drain capability and intelligence from their teams, while others ("Multipliers") amplify it to produce better results. Including a foreword by Stephen R. Covey, as well the five key disciplines that turn smart leaders into genius makers, Multipliers is a must-read for everyone from first-time managers to world leaders.
About the Author
---
Liz Wiseman es la presidenta de The Wiseman Group, un centro de investigación sobre liderazgo y desarrollo ubicado en Silicon Valley. Es asesora de altos directivos y lidera foros sobre estrategia y liderazgo para equipos ejecutivos alrededor del mundo. Ex directora en Oracle, fungió como vicepresidenta de la Universidad de Oracle y por diecisiete años como la líder global para el desarrollo de recursos humanos. Es licenciada en administración de empresas y maestra en conducta organizacional, egresada de la Brigham Young University.